Clay in Motion Handwarmer Mugs (Variety of Colors)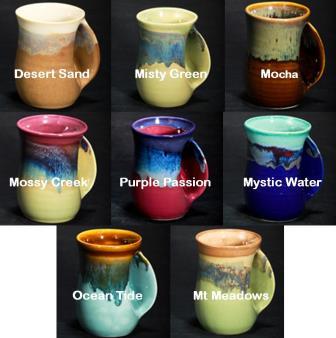 This unique mug is available in either a right handed or a left hand version. Always test your mug before sliding your fingers into the pocket. If the mug is too hot, hold the mug by the outer flange. The mug is microwave and dishwasher safe and is lead free.

Don't forget to check out all of the wonderful colors the mugs come in!

As pictured left to right (front row): Mt. Meadow, Purple Passion, Desert Sand, Ocean Tide, Misty Green, Mocha, Mt Meadow, River Stone, Cobalt Canyon, Mudslide. Mossy Creek is not pictured but is similar to Misty green with a purple band at the top.

New colors are River Stone, Cobalt Canyon, Black & Yellow, Stormy Night, Snow Cap and Mudslide.