Black Elk Lives: Conversations with the Black Elk Family [Paperback]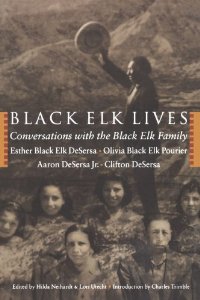 The story and teachings of Nicholas Black Elk (1863–1950), first recorded by John G. Neihardt in Black Elk Speaks, have played a critical role in shaping the way in which Native Americans and others view the past, present, and future of Native America. These conversations with the descendents of Black Elk offer an intimate look at life on the Pine Ridge Reservation and fresh perspectives on the religious, economic, and political opportunities and challenges facing the Lakota people today. In addition to revealing more about Black Elk the healer, the family also provides glimpses of Black Elk as a family man, teacher, and influential ancestor.
Esther Black Elk DeSersa and Olivia Black Elk Pourier are the granddaughters of Nicholas Black Elk. Aaron DeSersa Jr. and Clifton DeSersa are the great-grandsons of Black Elk. Hilda Neihardt is the daughter of John G. Neihardt and emeritus chair of the board of the John G. Neihardt Foundation. She is the author of Black Elk and Flaming Rainbow (Nebraska 1995). Lori Utecht is a former executive director of the John G. Neihardt State Historic Site. Charles Trimble is a member of the board of the John G. Neihardt Foundation.
"The authors--granddaughters and great-grandsons of Black Elk--weave together the past, present, and future of the Lakota people and demonstrate that Black Elk's vision is still very much with them." --Library Journal
"An eloquent description of the lives of the grandchildren and great-grandchildren of the Lakota holy man responsible for Black Elk Speaks, a classic of anthropology and religious studies... This fascinating and powerful document offers myriad insights into Lakota religion and life." --Booklist