The Bull Rider's Advice: New and Selected Poems [Paperback]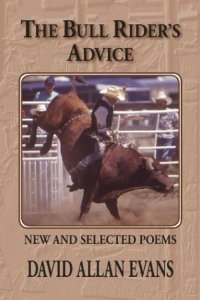 "The poems of Dave Evans are lithe and athletic, and have a sense of earned urgency rare in contemporary literature. I always read him with delight, and follow where he takes me: to good regions, full of health and muscle." --James Dickey

"[Evans] is irresistible...down-to-earth, amusing, bluff, insightful, unpretentious and extremely readable...a close observer of animals in their natural environment--and those include not only pigeons, antelopes, castrated pigs, bees, ponies, rats, and grackles, but also humans...." --Laurel Speer, Small Press Review

"Below the surface of [these poems] is a moral voice, a search for truth, a reservoir of wisdom." --Jerry Wilson, South Dakota Magazine

David Allan Evans was born in Sioux City, Iowa, in 1940. Many of the images and experiences in his poems come from his hometown, especially from the years he lived in a working-class neighborhood on a railroad bluff. Ever since, as he says in his first poem in his first book, he has been "Committed to beginnings / or to nothing." He has received numerous awards for his poetry including grants from the National Endowment for the Arts and the Bush Artist Foundation. He and his wife, Jan, have traveled widely and have lived and taught a total of two years in China, where he has twice been a Fulbright Scholar. Evans has taught literature and writing courses at South Dakota State University since 1968, and was appointed poet laureate of South Dakota in 2002.