Peter Norbeck: Prairie Statesman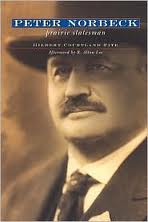 A South Dakota State Historical Society Press Publication

From successful well-driller to governor and United States senator, Peter Norbeck (1870–1936) worked tirelessly for South Dakota. A progressive Republican, strong supporter of the policies of Theodore Roosevelt, and early conservationist, he was a towering figure in state politics. In Peter Norbeck: Prairie Statesman, Gilbert Fite has written his definitive biography, and through the generous support of the Meierhenry family, it is again available, with a new introduction, afterword, and photographs.

Norbeck was a man of many interests, but his first concern was the farmer. As a supporter of state-owned industries and a leader in national agricultural legislation, he worked diligently for the benefit of rural residents. He also helped obtain funding for the carving of Mount Rushmore and directed construction of the scenic Iron Mountain Road leading to the monument. Through his efforts, legislation establishing Grand Teton National Park and extending the boundaries of Yellowstone National Park, as well as the Migratory Bird Conservation Act of 1929, became law.