Black Hills Honey Lip Balm (5 Flavors)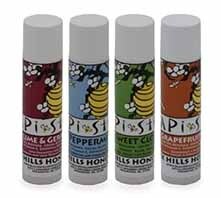 Our lip balms are 100% all-natural, made with raw honey, beeswax, and propolis, and contain no synthetic ingredients or dyes. "Apistick – not just another chap(py) stick!"

Grapefruit and Ginger Honey Lip Balm is lightly scented with grapefruit and ginger essential oils. Grapefruit is known for its antiseptic and disinfecting properties, and is refreshing and uplifting, while ginger is stimulating and promotes courage.

Lemongrass and Sweet Orange Honey Lip Balm is lightly scented with lemongrass and sweet orange essential oils. Lemongrass promotes psychic awareness and helps fight depression, while sweet orange is naturally uplifting.

Lime and Geranium Honey Lip Balm is lightly scented with lime and geranium essential oils to encourage your well-being and energize your tired mind.

Peppermint Honey Lip Balm is lightly scented with peppermint essential oil. Peppermint is not only purifying and stimulating to the conscious mind, it also has antibacterial and antifungal properties.

Sweet Clover Honey Lip Balm is naturally unscented and flavored with sweet clover honey. It's a great choice if you have fragrance allergies, or if you simply want an unscented, 100% all-natural lip balm.