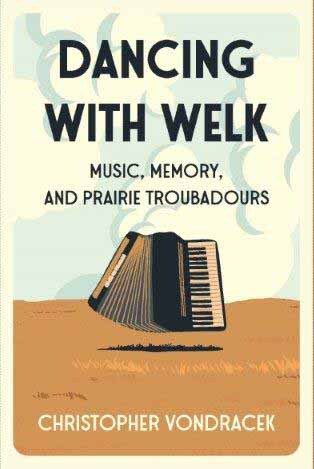 A South Dakota State Historical Society Press Publication

In the early 2000s, the Brickhouse Boys, an indie-rock ensemble based in Vermillion, South Dakota, tried to become famous from the middle of nowhere. Over fifty years prior, Lawrence Welk, a young accordionist and bandleader from Strasburg, North Dakota, had managed to do just that. Dancing with Welk follows Christopher Vondracek, the pianist and songwriter for the Brickhouse Boys, as he recounts his attempt to follow in the footsteps of Welk, whose brand of "champagne music" garnered him legions of dedicated fans and a long-running television series.

Dancing with Welk blends memoir, travelogue, and cultural history to create a nuanced and often hilarious ode to the landscapes and musical traditions of the Northern Great Plains. A portrait of a young person navigating both personal and professional crossroads while traversing a vividly rendered landscape, the book chronicles Vondracek's efforts to mine inspiration from Lawrence Welk's autobiography while puzzling over the prairie troubadour's unlikely journey to stardom. Along the way, he struggles to keep his band together, delves into his family history, and questions what it means to be a musician. In addition to offering new insights into Welk's life and career, Vondracek's narrative takes readers on a one-of-a-kind tour through the region, with stops at dive bars, historic sites, and the World's Only Corn Palace.

Music lovers, fans of regional literature, and Welk enthusiasts alike are sure to enjoy Dancing with Welk. Vondracek's fluid prose and uncanny storytelling ability make this unique book a must read.