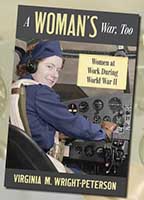 World War II was a total war, devouring the military and civilian resources of nations. Women in Minnesota—like women across the country—made bold, unconventional, and important contributions to the effort. They enlisted in all branches of the military and worked for the military as civilians. They labored in factories, mines, and shipyards. They were also tireless peace activists, and they worked to relocate interned Japanese American citizens and European refugees. They served as cryptologists, journalists, pilots, riveters, factory workers, nurses, entertainers, and spies.

In 1938, before the United States joined the conflict, a Minnesota woman was covering the war in Europe as a reporter. Another was a military nurse at Pearl Harbor when the bombs fell. Minnesota women witnessed the fall of France, the defeat of Axis forces in North Africa and Italy, the Battle of the Bulge, D-Day and the invasion of Normandy, the liberation of France and of the concentration camp at Dachau, and the dropping of the atomic bomb on Hiroshima.

In this rich chronological account, Virginia M. Wright-Peterson reframes our understanding of the war through the specific and powerful stories of individual women. It was their war, too.