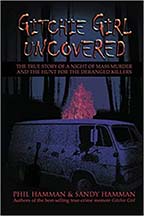 For over forty years, the events of what happened at Gitchie Manitou the night of November 17, 1973, remained a mystery to all but a few. Then the lone survivor broke her silence. Five teenage friends had driven to the park to spend a few hours around a campfire. By morning, four had been murdered, and only she was still alive.

Gitchie Girl Uncovered is a chilling account of the strange twists and bizarre details discovered by an elite team of investigators under intense pressure to catch the killers. After spending hundreds of hours with the lone survivor, investigators, and family members of the slain boys, and by gaining access to court records, authors Phil and Sandy Hamman give the reader a what-will-happen-next inside story of the monstrous crime that shook the Midwest. They bring the reader into the deviant world of the brutal killers with an up-close look at how they think and operate.

The Hammans' book Gitchie Girl: The Survivor's Inside Story of the Mass Murders that Shocked the Heartland rose to become a bestseller; however, both books were written so that they can be read in either sequence or independently.