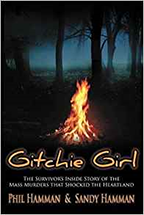 A terrified voice cried out in the night.

"Who are you? What do you want?

The sound of snapping twigs closed in on the five teenagers enjoying an evening around a glowing campfire at Gitchie Manitou State Park. The night of music and laughter had taken a dark turn. Evil loomed just beyond the tree line, and before the night was over, one of the Midwest's most horrific mass murders had left its bloodstains spewed across the campsite. One managed to survive and would come to be known as the "Gitchie Girl." Harrowing memories of the terrifying crime sent her spiraling out of control, and she grasped at every avenue to rebuild her life. Can one man, a rescue dog, and a glimmer of faith salvage a broken soul? This true story will touch your heart and leave you cheering that good can prevail over the depravity of mankind.

Through extensive research, interviews, and personal insight, the authors bring a riveting look at the heinous crime that shook the Midwest in the early 1970s. Written from rare, inside interviews with the lone survivor, who broke nearly four decades of silence, this shocking yet moving story will not soon be forgotten.