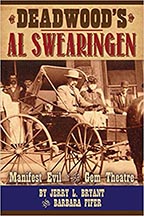 Come along for an inside look at the life and times of "the Devil of Deadwood."
You've followed his wicked misdeeds and cuss-filled rants on the HBO series Deadwood (as played by Ian McShane), now go inside the life and death of the real Al Swearingen with Farcountry Press newest release, Deadwood's Al Swearingen: Manifest Evil in the Gem Theatre. Meticulous research and lively writing by Deadwood historian and HBO consultant Jerry L. Bryant and co-author Barbara Fifer shed new light on Al s scandalized childhood in Oskaloosa, Iowa, his nefarious dealings at his saloon and brothel in gold-rush-era Deadwood, and his brutal death (was he murdered?) in a Denver rail yard.
-Features Al's 1904 orbituary and never-before-published burial records.
-Includes a photograph of Al Swearingen tending bar at the Gem Theatre
-Newspaper accounts of Al's scrapes with the law
-New information on Al's family, and the violent demise of his twin brother.
-Features meticulous research and lively writing from Deadwood historian (and HBO series consultant) Jerry L. Bryant
-Printed in the USA by Montana publisher Farcountry Press