Life & Legends of Calamity Jane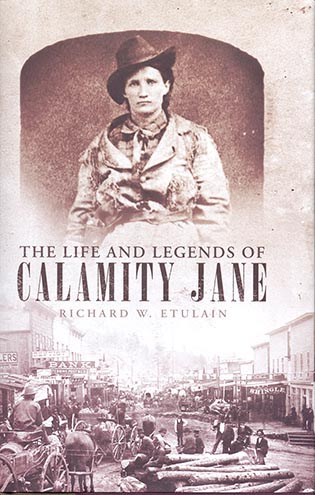 Everyone knows the name Calamity Jane. Scores of dime novels and movie and TV Westerns have portrayed this original Wild West woman as an adventuresome, gun-toting hellion. Although Calamity Jane has probably been written about more than any other woman of the nineteenth-century American West, fiction and legend have largely obscured the facts of her life. This lively, concise, and exhaustively researched biography traces the real person from the Missouri farm where she was born in 1856 through the development of her notorious persona as a Wild West heroine.

Sorting through the stories, veteran western historian Richard W. Etulain's account begins with a biography that offers new information on Calamity's several "husbands" (including one she legally married), her two children, and a woman who claimed to be the daughter of Wild Bill Hickok and Calamity, a story Etulain discredits. In the second half of the book, Etulain traces the stories that have shaped Calamity Jane's reputation. Some Calamity portraits, he says, suggest that she aspired to a quiet life with a husband and family. As the 2004–2006 HBO series Deadwood makes clear, well more than a century after her first appearance as a heroine in the Deadwood Dick dime novels, Calamity Jane lives on—raunchy, unabashed, contradictory, and ambiguous as ever.