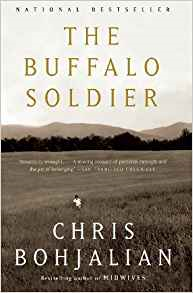 With his trademark emotional heft and storytelling skill, bestselling author Chris Bohjalian presents a resonant novel about the unconventional family that forms after Terry and Laura Sheldon, a Vermont storm trooper and his wife grieving the loss of their twin daughters, take in a foster child.

His name is Alfred; he is ten years old and African American. And he has passed through so many indifferent families that he can't believe that his new one will last.

In the ensuing months Terry and Laura will struggle to emerge from their shell of grief only to face an unexpected threat to their marriage; Terry's involvement with another woman. Meanwhile, Alfred cautiously enters the family circle, and befriends an elderly neighbor who inspires him with the story of the buffalo soldiers, the black cavalrymen of the old West. Out of the entwining and unfolding of their lives, The Buffalo Soldier creates a suspenseful, moving portrait of a family, infused by Bohjalian's moral complexity and narrative assurance.