Grasslands Gourmet Soups (8 Flavors)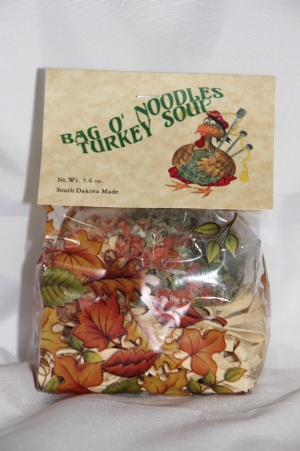 Grassland Gourmet & Gifts LLC, Onida, SD is owned by three veteran educators who for years have shared their friendship and recipes while striving for healthy eating habits and good nutrition. These common goals led to the creation of a large variety of easy to prepare, delicious, and healthy food products and beverages that are perfect for any gathering.

Bag O' Noodles Turkey Soup is a great way to use holiday leftover turkey or chicken, but is tasty any time of the year. Just add water and the meat of your choice and cook in the crock-pot or on the stove. Your family will love this hearty noodle soup.

CheeZy Burger Chowder is America's all time favorite meal, made into a Grassland soup for your enjoyment. The soup mix is combined with chicken and water for a nutritious meal.

Country Zuppa Italian Style stands alone but you may add cooked Italian Sausage for a hearty soup meal. This seasoned blend of white beans, spinach, zucchini, carrots, and other vegetables is an excellent way to get your veggies for less than 150 calories per serving without the meat.

Crock-pot Wild Rice Soup is a creamy combination of white rice, wild rice, and vegetables. This soup is easily prepared by adding water and the soup mix to a crock-pot and cooking on low for 6 to 8 hours. Then just add evaporated milk and the meat of your choice and continue to cook for 15 minutes.

Dawg Gone Good Beef Stew is a hearty stew with a rich flavor that requires only the addition of your choice of meat, stewed tomatoes, and water.

Lip Smackin' White Chili is Grassland's latest culinary creation that is a twist on traditional beef chili. This soup mix added to 2 or 3 diced chicken breasts and served with a dollop of sour cream is a meal by itself or you can add your favorite Grassland Beer Bread.

Suzy's Beefy Barley Soup is a healthy combination of hamburger, barley, and vegetables. Prepare on the stove-top in an hour or combine in the slow cooker to serve later.

Gramma Faye's Pot Pie: Gramma Faye's Pot Pie Mix is a versatile main meal in a bag! Just add cooked chicken, water and milk to the bag of vegatables and seasonings. Simmer and pour into a pie shell or top with biscuits. Better yet, top with Tater Tots and bake! This will become one of your family favorites. You may also add more liquid and serve it as a soup.