Native American Green Tea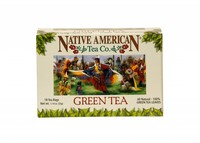 At the Native American Tea Company, we offer a wide variety of teas. When you're searching for a tea with a very smooth and mellow flavor, our all natural green tea is the perfect choice. It is made of 100% green tea leaves and contains caffeine, so, when you're looking for a warm beverage to begin your day, brew a cup of this and you'll feel ready for anything. It's also great on ice! We are proud to offer our quality teas at affordable prices, so that you can enjoy the soothing and diverse flavors of all our teas!
Naturally gluten free. 100% Green tea leaves.
Box contains 18 tea bags