Forgotten Lives: African Americans in South Dakota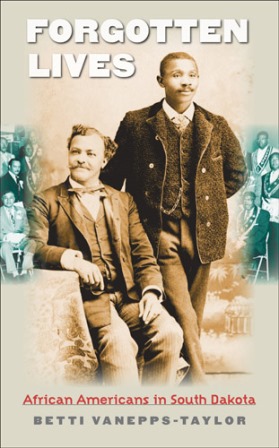 A South Dakota State Historical Society Press Publication

Throughout South Dakota's history, African Americans have been vastly outnumbered by their white and American Indian neighbors. Underreported as well, they have been misrepresented by historians, journalists, even census-takers. However, from the first African Americans to visit the Northern Great Plains as fur traders in the early 1800s to twentieth-century voting-rights advocates or professionals recruited after World War II, African Americans have pioneered here. They have participated in the state's successes and failures and contributed to its rich history.

In Forgotten Lives, Betti VanEpps-Taylor teases these South Dakotans' stories out of newspaper accounts, census records, early social histories, and oral histories. Her insights into the lives and communities of this small but vital minority span two centuries and focus on the well known as well as the local. Prominent figures such as York, who accompanied Lewis and Clark on their expedition, and Oscar Micheaux, the acclaimed filmmaker, fit neatly into the timeline, alongside less-famous laborers, river men, soldiers, seamstresses, business owners, miners, lawyers, homesteaders, midwives, doctors, and town leaders. Their stories offer much to twenty-first-century Americans still struggling to come to grips with their racial history.