Dammed Indians Revisited: The Continuing History of the Pick-Sloan Plan and the Missouri River Sioux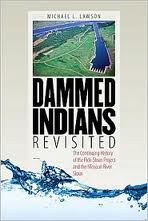 A South Dakota State Historical Society Press Publication

The 1944 Pick-Sloan Plan created a wealth of economic opportunities for the states lying along the Missouri River. But the project also flooded more than two hundred thousand acres of bottomlands that helped to sustain the Sioux (Lakota, Dakota, Nakota Indians) and forced the relocation of whole communities.

Dammed Indians Revisited examines how the work of the United States Army Corps of Engineers and the Bureau of Reclamation affected the communities along the river, demonstrating the unequal relationship between the tribes and the federal government. Lawson has unearthed new information, revising his original work to bring the story up to date. While the flooding occurred more than sixty years ago, the impact of the plan and its ramifications for continuing tribal-federal relations remain relevant in the twenty-first century.