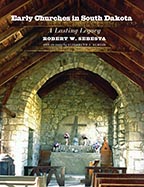 A South Dakota Historical Society Press Publication

"Few types of historic buildings embody the emotional charge that churches do, but even beyond the personal ties that church members and their families may have with a building, churches have played critical roles in the history of South Dakota."—Elizabeth J. Almlie

A testament to the people who built them, churches represent shared religious beliefs, local craftsmanship, and community. Members of the congregations often constructed these buildings from readily available materials to fulfill their visions of faith, education, and fellowship. Over time, congregations grew, and some hired architects to erect high style churches on the prairie. From simple wood structures to large stone edifices, each building embodies the identity of its worshippers.

Over the course of several years and many summer-time trips across South Dakota, Robert W. Sebesta photographed more than six hundred religious buildings built from 1869 to 1930—many still in use, others long neglected. In Early Churches in South Dakota, he details, decade-by-decade, the early efforts to create these places of worship and the modern-day struggles to preserve them.