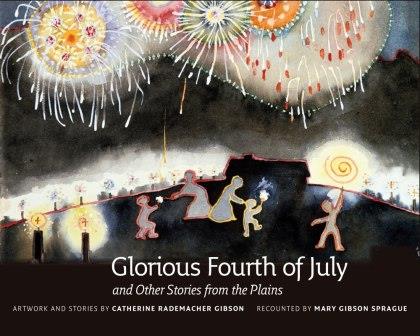 A South Dakota State Historical Society Press publication

Glorious Fourth of July "shows us pure joy, expressed in beguiling color and imaginative scenes, [and] rendered in sophisticated compositions."—Jack and Anne Heinz

Living through everyday childhood exploits with a large spark of imagination, a young girl grows up on the American plains. Catherine survives a cyclone and a small pox epidemic. She plans and takes part in a circus, listens to stories told by her grandparents, and dances wildly to the mazurka in her living room in Watertown, South Dakota. Her youth is filled with new sights as her world expands to the Montana frontier and the metropolis of Saint Paul, Minnesota. As the storyteller, Catherine gives insight into a bygone era with child-like enthusiasm and a reflective nature brought on by the passing years.

In recounting these episodes from Catherine Rademacher Gibson's childhood, her daughter Mary Gibson Sprague shares a narrative common to many plains families that migrated throughout the United States at the beginning of the twentieth century. The tales take on new life as they are paired with paintings created by Catherine in her adult years. These "memory paintings," as she named them, call readers back to a time when birthday parties were new celebrations and children relied on their own ingenuity to occupy themselves.

A testament to the creative spirit, Catherine's adventures should be read aloud and shared with every generation.