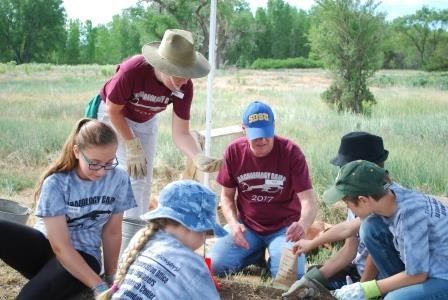 Archaeology Camp 2021
Primary sponsors: South Dakota State Historical Society/Historic Preservation Office (SHPO), and U.S. Army Corps of Engineers
Archaeology Camp 2021 is for students going into grades 4-6 (no exceptions) for the 2021-2022 school year.  Camp dates are June 15-17, 2021, from 8 a.m. to 5 p.m.  The program is structured for students to attend all 3 days.  If a camper cannot attend all 3 full days, they should not sign up.  Registration is limited to the first 15 applicants who have not previously attended. Prior participants may apply, but their names will be added to a lottery and only considered if there are less than 15 new campers.  No walk-in campers will be accepted on camp days. Due to the ongoing pandemic, all campers will be required to wear masks.
Registration will begin on May 3, 2021 at 8 a.m. (ONLINE ONLY) and will close when the camp is full or on May 6, 2021, whichever comes first.  The registration fee is $30, and only online registrations will be accepted this year.  Registrations are automatically logged in in the order in which they are received.  Please note that in previous years, registration was full and closed within 15 minutes of opening! 
Please be sure to include an e-mail address in the space provided on the form.  All applicants will be notified via e-mail whether or not they have been accepted. 
A few weeks before camp begins, parents or guardians of students accepted will be mailed a letter detailing what campers need to bring and other specifics.  This mailing will also contain two release forms which must be signed and returned no later than 5 p.m. on Friday, May 21.  If the forms are not received by the deadline, the camper will be turned down and replaced with someone on the waiting list.
For more information on the Archaeology Camp, please contact Jenna Carlson Dietmeier at 605-773-8370 or by e-mail at Jenna.CarlsonDietmeier@state.sd.us.
A separate registration form must be completed for each participant. The $30 camp fee will be processed upon completion of the online checkout.
Registration will not open until 8AM CST on Monday, May 3rd. Once open a link will appear below at the bottom of the page. Please click on the link and complete your registration. Once capacity has been met, the registration will close and the link will disappear. The printable registration form is listed so you can have your information prepared for the online process.
2021 Archaeology Camp
This form stopped accepting submissions on May 3, 2021 8:00 pm CDT.