Patricia Miller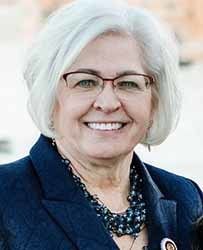 Patricia (Pat) Miller takes an active interest in her family, her community and state, and the Republican Party.
Twenty years of public service with the State Departments of Education, Labor and Social Services. Ten years with Easter Seals South Dakota, including seven years as CEO. In 2008 she was chosen as President of the South Dakota Heritage Fund, the non-profit partner to the South Dakota Historical Society.
Patricia marries Walter D. Miller on July 4, 1993, in Rapid City, SD. Between their two families, they have 6 children. Patricia served as South Dakota's First Lady for her husband, Governor Walter D. Miller, from 1993-1995.
Leadership and volunteer positions include Community Food Bank of South Dakota, Children's Care Hospital and School, Delegate to the White House Conference on Aging, Habitat for Humanity, Northern Great Plains Rural Development Commission, SD Tourism Board of Directors, SD Women's Lifestyle Conference, the SD Institute of Geriatrics-USD School of Medicine and Health Services, Past President of Cen-Kota and the South Dakota Federation of Republican Women, President of the Fort Pierre Development Corporation and life long member of the Lutheran Church and the Republican Party.