Karly Winter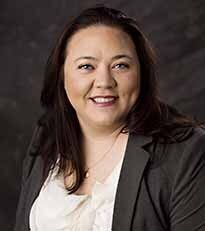 Born and raised in Aberdeen, SD, Karly Winter left for a year to attend college in Minnesota, but decided she missed her home state and transferred back, completing her undergraduate and law school studies at the University of South Dakota.
Karly's love of history started early in life and she was thrilled when her 6th grade class had the opportunity to become "Junior Docents" at the Dacotah Prairie Museum in Aberdeen. Karly was assigned to the pioneer exhibit room and as the great-great granddaughter of Roberts County homesteaders, loved to relay to visitors the story of those hardy people and their trials and successes on the Great Plains, along with the history of the railroad in the area. Later, Karly acted as a "counselor" at summer History Camp in Aberdeen, helping younger children connect with the past through stories and activities.
Currently a resident of Pierre, SD, Karly works as the Operations and Compliance Manager at the South Dakota Community Foundation where she contributes to the efficient operation of the SDCF by providing structure and oversight to fund administration. Karly uses her legal background to ensure SDCF's compliance with applicable standards and safeguard donor intent.

Previously, Karly spent several years in her hometown of Aberdeen as a prosecutor, first as Assistant City Attorney for the City of Aberdeen, followed by eight years as a Deputy State's Attorney for Brown County. In 2018, Karly was named Prosecutor of the Year for the South Dakota DUI and Drug Courts. She also taught criminal justice classes as an adjunct professor at Presentation College.
Karly and her husband are avid travelers, seeking out interesting and historical stops wherever they go. Back home in Pierre, Karly loves to bake and attempts to garden. Previous volunteer service includes the Executive Board for Safe Harbor in Aberdeen and various leadership positions with the Aberdeen Area Child Protection Team. Karly is a 2022 graduate of the Leadership South Dakota program and has continued her involvement post-graduation.