Julie Breu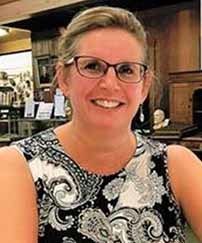 I'm the director of the Lake County Museum, formerly the Smith Zimmermann Museum, in Madison, South Dakota. I have a Bachelor of Arts in History with a minor in Art History. I completed a Master's degree from Eastern Illinois University in Historical Administration. I have worked in several southeast South Dakota museums for over twenty years. I was employed for fifteen years at the Siouxland Heritage Museums in Sioux Falls in various positions. I began as an intern and quickly moved into the Operations Manager position, which I held for thirteen years.  The Curator of Collections position became available and I decided to move into that position.
In 2013, my family and I moved to Belgium for my husband's job. I wanted to remain active and gain new experiences with museums and historic groups so I began working with a local group putting together a celebration on the signing of the Treaty of Ghent. I also volunteered with the archives (the Rubenianum) at the Rubens House Museum in Antwerp, Belgium.  After three years in Belgium, we were transferred to Ireland where we spent two years. During our five years in Europe my family and I went through dozens of museums and historic sites.
During the past year as director of the Lake County Museum the board and I have worked this past year to rebrand and renew the image of the museum. Through a renewed and targeted membership drive, I increased the amount of membership dollars coming in three-fold from past years. Through this campaign the amount of business memberships doubled.  The Board and I are working on creative fundraising drives and activities throughout this year.
Julie lives in Wentworth, SD with her husband Kent and two children Mitchell and Ainsley.