Charles Schroyer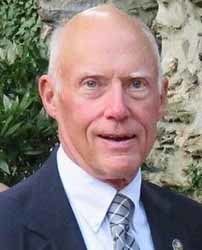 Charles P. "Chuck" Schroyer is a native South Dakotan and graduate of Washington High School in Sioux Falls and the University of South Dakota with degrees in business administration and law. Arriving in Pierre in 1970, he practiced law as an Assistant Attorney General and deputy State's Attorney before being elected as Hughes County State's Attorney in 1976. Now retired, Chuck was a founding partner in the law firm formerly known as Schmidt, Schroyer, Moreno, Lee and Bachand, PC. He is also a real estate developer, involved in several residential subdivisions in Pierre as well as multifamily apartments and the Pierre Professional Plaza office building.
He has served the community of Pierre and the State of South Dakota as a board member of the Pierre Area Chamber of Commerce and Pierre Economic Development Corporation, United Methodist Church, the State Chamber of Commerce, South Dakota Community Foundation and the local chapter of the Lewis & Clark Trail Heritage Foundation. He was involved in the approval of funding for and development of the State Cultural Heritage Center in Pierre.
He and his wife Bonny enjoy skiing, boating and are avid hikers. They have traveled extensively visiting all 50 states and the seven continents. They have one daughter, who with her husband and two children also reside in Pierre.