Who We Are
The South Dakota Historical Society Foundation is committed to telling the story of our state's unique history that has helped shape our values today. We tell the story as an active partner, fundraiser and steward, providing financial resources to projects of the program areas of the South Dakota State Historical Society: archaeology, archives, historic preservation, museum, and research and publishing. This philanthropic commitment is to preserve the past and serve the future of South Dakota through annual, capital and planned giving from public and private donors.
Our Mission Statement is: KEEPING SOUTH DAKOTA HISTORY ALIVE!
Your donations help ensure our success.
---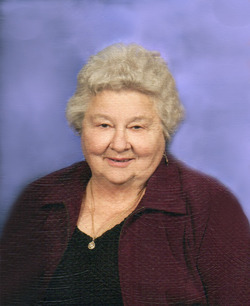 Life Legacy
Rapid City - Nyla J. Lewis, 84, was born December 16, 1932.  Her parents, Clarence and Catherine Hillman lived near Canova, South Dakota.  Nyla was the oldest of the five children born to Clarence and Catherine.  She was proud of her ability to handle chores.  In 1948, she began dating Elmer Lewis.  After graduating high school, Nyla attended South Dakota State University.  She transferred to General Beadle College and completed her second year certificate which allowed her to teach elementary school.  Nyla and Elmer eloped and married on August 26, 1952 at Lac Qui Parle Lutheran Church in Dawson, Minnesota.  She began teaching at the Stokke District 17, Howard, SD while Elmer farmed.  During their life "back east," Nyla and Elmer had 5 children:  Jesse, Kathryn, Michael, Dan and Thomas.
Nyla spent her life teaching. Teaching was more than her career, it was why she lived.  Nyla and Elmer moved to the Black Hills in 1960, purchasing the house they called home for the next 57 years.  Nyla took courses to advance her degree while working as a substitute teacher. She received her degree from Black Hills State College in 1969.  Nyla was contracted to teach at Doty School teaching grades 1-6 from 1965-1967.  She transitioned to teaching in the Rapid City Public School System in the fall of 1967 and taught at General Beadle Elementary and South Canyon Elementary.  Nyla taught in the Rapid City School system for 23 years.  She was active in the RCEA, SDEA and NEA.  Although Nyla retired from teaching in 1990, she didn't stop sharing her knowledge of life with her children, her grandchildren and great grandchildren.
Nyla died November 25, 2017.  Nyla hoped she would be remembered as a mother who really tried to love and guide her children through what she thought were the best ideals; that she was a loyal partner to her husband of 65 years.  She attained those goals and then some.
Nyla will be sorely missed by her husband Elmer and her children: Jesse (Kathy E.), Kathryn; Michael (Barbara); Dan (Amy) and Thomas.  Her grandchildren include Stephanie (Jesse) Sorensen, Lindsey (Tyson) Waddell; Danielle (Cory) Shafer, Adam (Jessica) Lewis, Jamie Lewis (fiancé Elise Strutt) and Jake Lewis.  Her great grandchildren: Taylor and Mackenzie Sorensen, Will, Brady and Tucker Waddell, and Brock and Addyson Shafer. Nyla is also survived by her siblings Rose Schmeichel (Roy), Doris Dahme (Roger), Howard Hillman (JoAnne) and Karen Potter (Pete) along with many cousins, nieces and nephews.
Visitation will be from 5:00 – 7:00 pm Friday, December 1, 2017 at Osheim & Schmidt Funeral Home.
Services are scheduled for 1:00 pm Saturday, December 2, 2017 at Westminster Presbyterian Church.
Although Nyla loved flowers, the family will establish a memorial to honor Nyla's commitment to education and children.  Should you have a charity dear to your heart, please consider remembering Nyla.
---
Fort Tecumseh and Fort Pierre Chouteau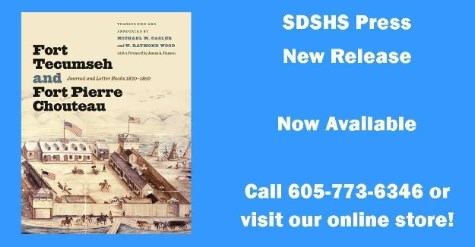 ---
Membership
By joining at the $125 level or more, you can benefit the Foundation by becoming a member of the South Dakota State Historical Society. Membership is offered at Bronze, Silver, Gold, Platinum and Diamond levels. Members enjoy a number of perks in addition to all the fantastic benefits of a basic Society membership.
---
The Heritage Store
The South Dakota Historical Society Foundation operates the Heritage Store at both the Cultural Heritage Center and Capitol.
The stores offer a variety of attractive, quality South Dakota made items and items that reflect South Dakota: books published by the South Dakota State Historical Society Press, pottery, jewelry, Capitol memorabilia, food, art, glassware, items featuring the Sioux Horse effigy, and much more!
As a South Dakota State Historical Society member, receive a 10% discount on store purchases. We are glad to ship items.
Keep the Heritage Store in mind when shopping for unique gifts from South Dakota!
---
Volunteer
Would you like to participate in "Keeping South Dakota History Alive"? Would you like to meet new people and make new friends? Donate your time and have fun!
There are many volunteer opportunities with the South Dakota Historical Society Foundation. Contact us and join the volunteer team today.
---
Monthly History Articles
---
Map to the Cultural Heritage Center