SHOP NOW!
Heritage Store proceeds benefit the South Dakota State Historical Society
SHOP NOW!
»

Books

»

Country Congregations: South Dakota Stories [Paperback]

Country Congregations: South Dakota Stories [Paperback]

Books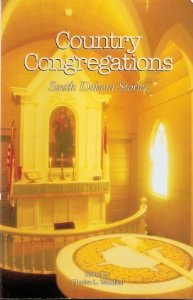 | Quantity | Price | Subtotal |
| --- | --- | --- |
| 1 | $10.95 | $10.95 |
Gathering Together in Faith and in Life.
These true tales were collected from people who knew that the country congregation was more than a gathering for worship. The regular assembly made possible a more intimate sharing of life. It was a bond that held community together.
A sequel to the South Dakota Humanities Council's very popular One-Room Country School, Country Congregations offers insightful glimpses into past and present rural cultures. It will at once educate, amuse and enchant.
What People Say about Country Congregations:
"A great read! At first I picked a story here and there, but finally gave in and read it cover-to-cover. Twice!"
"It belongs in the collection of anyone who seeks a connection to our prairie roots."
"My fondest memories as a child growing up in South Dakota revolve around the weekly Sunday gathering. I can still smell the hot biscuits coming out of the oven after service."