SHOP NOW!
Beyond the Ridge
Kids Books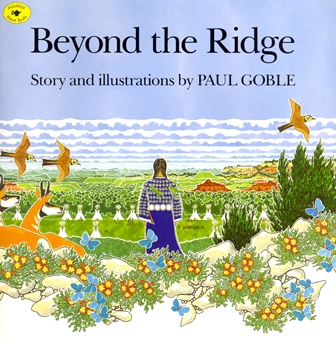 | Quantity | Price | Subtotal |
| --- | --- | --- |
| 1 | $6.99 | $6.99 |
Paul Globe has written about Beyond the Ridge: "The concept of the long climb of someone who is dying is one which we can understand. You walk gradually, and seemingly endlessly, upwards to the distant ridge. The view form the top will simply take your breath away....This is a vision of that other land Beyond the Ridge."
Born and raised in England, Caldecott-medalist Paul Goble has lived in the Black Hills of South Dakota with his wife, Janet, for more than thirty years. He has authored and illustrated forty books on American Indian subjects and has received numerous awards for his work, including the prestigious Caldecott Medal. Goble is a member of the Royal Society of Art, served as Artist in Residence at Mount Rushmore, and received a Ph.D. in humane studies from South Dakota State University.