SHOP NOW!
Dream Wolf
Kids Books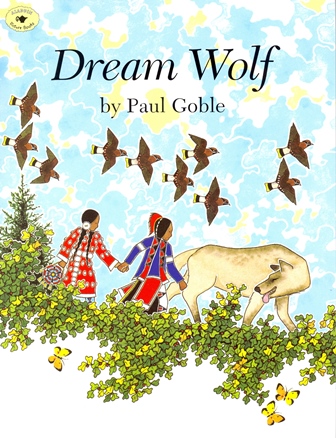 | Quantity | Price | Subtotal |
| --- | --- | --- |
| 1 | $7.99 | $7.99 |
Lost in the hills with night approaching, Tiblo and his little sister, Tanksi, take shelter in a cave. Seemingly in a dream, a wolf keeps them warm during the cold night, and then the next morning leads them back home. For his kindness everyone gives the wolf gifts, and ever since "there has been close kinship with the Wolf People."
Born and raised in England, Caldecott-medalist Paul Goble has lived in the Black Hills of South Dakota with his wife, Janet, for more than thirty years. He has authored and illustrated forty books on American Indian subjects and has received numerous awards for his work, including the prestigious Caldecott Medal. Goble is a member of the Royal Society of Art, served as Artist in Residence at Mount Rushmore, and received a Ph.D. in humane studies from South Dakota State University.