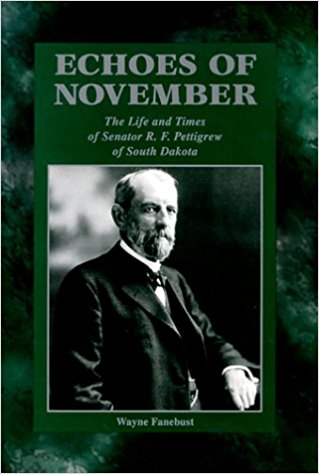 Comprehensive biography of U. S. Sen. R. F. Pettigrew of South Dakota. Pettigrew lived from 1848 to 1926. Born in Ludlow, VT, and raised in Evansville, WI, he came to Dakota Territory in 1869 as a young man. He poured his immense energies and talents into the economic and political affairs of Dakota. He was a surveyor, lawyer legislator, railroad promoter, entrepreneur and town builder.
Pettigrew was a leader in the movement to create the state of South Dakota. He served in the U. S. Senate from 1889 to 1901. In a move that shocked America, he abandoned the Republican party in 1896 in favor of Populism, and thereafter became one of the most influential and controversial members of Congress, leading the fight in favor of "free silver." Pettigrew also fought against imperialism and opposed the war in the Philippines. He was one of a handful of lawmakers who created the National Forest system.

This book explores every aspect of his life beginning with his experiences on the wild Dakota frontier, to his legendary political battles in Washington, D. C.