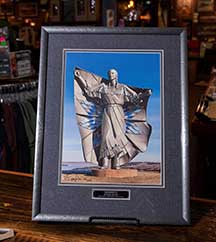 DIGNITY of Earth and Sky Signed Prints

Photo is an example of a signed, matted, print.

High on a bluff overlooking the Missouri River in Chamberlain, SD stands a 50' tall 12 ton stainless steel monument honoring the native peoples of the Great Plains. A portion of the proceeds from your purchase goes to The Dignity Initiative which is dedicated to supporting art projects in underserved communities throughout South Dakota.

Dale Claude Lamphere © 2016. The artist has protected images of Dignity of Earth & Sky by copyright. Unauthorized use is prohibited.