Digitization of the Alpha Mortenson Collection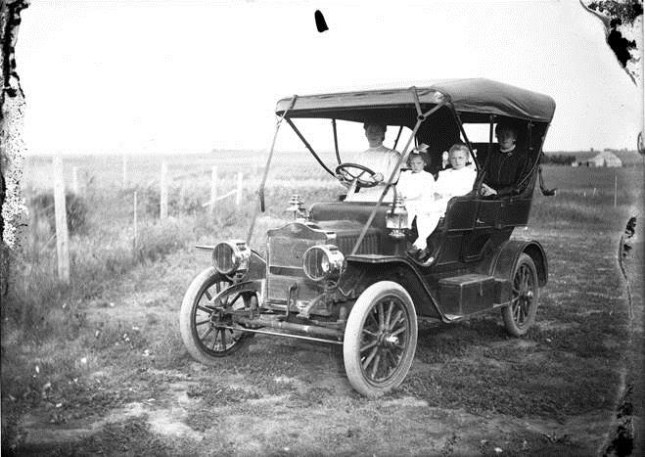 Glass plate photos.  A great source for genealogist!
Every minute of every day, thousands of pictures are uploaded to social media sites like Instagram and Facebook.  Today's cameras fit in our pockets.  They are integrated with our phones.  We can snap a picture and share it with the world in a matter of seconds.
Yet it wasn't too long ago when taking a photograph was a much more time-consuming endeavor. Imagine if all of your photographs were developed on glass plates.  To take a photo you would have to prepare the glass, coat it, sensitize it, expose it, develop it, fix the image, dry the plate, remove extra particles, flow the plate, and apply background.  One of South Dakota's pioneer women photographers accepted this challenge.
Alpha Mortenson was born near Platte on May 26, 1887, to Johan and Anne Mortenson. She attended the Platte public school and continued her education at Jewell Lutheran College in Jewell, Iowa.  She later studied photography and had photo studios in Platte, Lake Andes and Lake Park, Minn. She died in Tabor on November 14, 1950.
During her career as a photographer (ca. 1910-1949) she took thousands of photos (like the ones to the right) documenting the people and activities of southeastern South Dakota and Charles Mix County.  The images show day-to-day activities and work scenes, funerals and weddings, stores and soda shops, children and cowboys.  There are many portraits of local residents.
These images are preserved on 4,500 fragile glass plates, which were donated by Alpha's family to the South Dakota State Historical Society.  The State Historical Society wants to carefully scan these plates, catalog them, and add them to the South Dakota Digital Archives. Doing so will make this part of South Dakota's history available to anyone with an Internet connection. 
Please help make Alpha Mortenson's work available for the world to see; we cannot do the important preservation work without your support.  A donation to the Foundation helps enable professionally trained Archives' staff to digitize these priceless images of our pioneer heritage.  Please indicate your level of support on the form below or call (605) 773-6003 to learn more. Thank you for your consideration.
Sincerely,
Catherine Forsch, CEO                                                           Jay D. Vogt, Director
South Dakota Historical Society Foundation                           South Dakota State Historical Society
About the SDSHS archives collection
The SDSHS has collected photographs since its founding in 1891. There are over 70,000 items in the South Dakota Digital Archives including photographs, manuscripts, land survey records and finding aids to government collections. Over 1 million photographs in the collections remain to be scanned.  The on-line collection is made possible through support from private individuals and corporate grants.   Enjoy your virtual trip into South Dakota history.  http://history.sd.gov/Archives
The South Dakota Historical Society Foundation exists to receive and administer charitable gifts for the State Historical Society for the benefit of educating and preserving South Dakota history.   
SDHSF Tax ID#:   46-03-70475
---
Yes, I want to help make Alpha Mortenson's work available for the world to see.