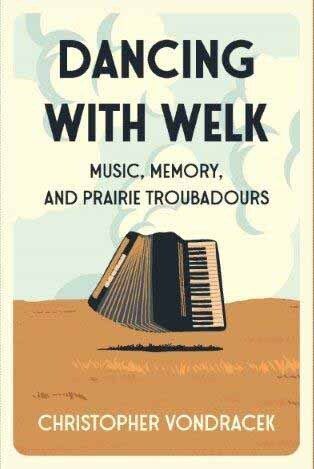 The latest publication from the South Dakota Historical Society Press explores the music and legacy of Lawrence Welk.
The book follows the footsteps of Lawrence Welk with the early 2000s band, the Brickhouse Boys, as they attempt to become famous, in the middle of nowhere. Over 50 years prior, Welk, a young accordionist and bandleader from Strasburg, North Dakota, whose brand of "champagne music" garnered him legions of dedicated fans and a long-running television series, had managed to do just that.
"Dancing with Welk: Music, Memory, and Prairie Troubadours" by Christopher Vondracek blends memoir, travelogue, and cultural history to create a nuanced and often hilarious ode to the landscapes and musical traditions of the Northern Great Plains and is now available for preorder at sdhspress.com.
"Vondracek's cheeky retelling of Lawrence Welk's story makes this history newly accessible, and his parallel memoir of the Brickhouse Boys' early-2000s tour is a page turner," writes Josh Garrett-Davis who grew up in Pierre and now works at the Autry Museum of the American West in Los Angeles. "He has a compelling, funny voice, and he wears his writerly style and erudition lightly, in good Midwestern fashion. 'Dancing with Welk' is a powerful and entertaining portrait of a place and time, and a way of life, that makes an essential addition to the shelves on music, history, and literature of South Dakota and its neighboring states."
"Dancing with Welk: Music, Memory, and Prairie Troubadours" can be preordered for $24.95, plus shipping and tax, at sdhspress.com. The book will be released on Sept. 6, 2022. Booksellers may email orders@sdhspress.com to place orders for their business. For more information about the South Dakota Historical Society Press and its books, please visit sdhspress.com and follow @sdhspress on Facebook, Instagram, and Twitter.
The South Dakota State Historical Society is a division of the Department of Education. The State Historical Society, an Affiliate of the Smithsonian Institution since 2013, is headquartered at the South Dakota Cultural Heritage Center in Pierre. The center houses the society's world-class museum, the archives, and the historic preservation, publishing, and administrative/development offices. For questions or memberships, call 605-773-3458 or visit www.history.sd.gov for more information. The society also has an archaeology office in Rapid City; call 605-394-1936 for more information.