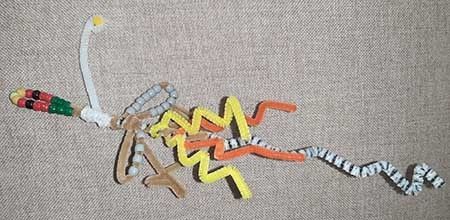 The Family Fun Saturday Take-to-Make on Oct. 2 from 10-11:30 a.m. CDT (9-10:30 a.m. MDT) at the Cultural Heritage Center in Pierre will feature a beady pheasant.
Pipe cleaners and beads are transformed into the South Dakota state bird, complete with a green head, red eye patch, white collar, and colorful tail "feathers." Visitors can pick up a bag with the materials and instructions and take the project home to complete. In addition to the written instructions, project video instructions are posted on the museum's website at https://history.sd.gov/museum/education.aspx.
To make sure there are enough bags, museum staff reserves the right to limit the number of bags any one person or group can take.
"With fall in the air and pheasants appearing seemingly just around every corner this is a great time to create your own beady pheasant," said Jay Smith, museum director.
The ring-necked pheasant is native to Asia and was first brought to South Dakota in 1908. The bird's colorful feathers make it easily recognizable as it makes its home on the South Dakota landscape. The pheasant became the state bird in 1943.
The museum is open for visitors. Hand sanitizer stations are set up throughout the gallery and visitors are encouraged to maintain a 6-foot distance as they enjoy the galleries.
There is free admission to the museum for all South Dakota residents and members of the South Dakota State Historical Society. Out-of-state adult visitors pay an $8 admission fee or $6 for out-of-state seniors 60 and older. Museum hours are 9 a.m.-4:30 p.m. CDT (8 a.m.-3:30 p.m. MDT) Monday through Saturday, and 1-4:30 p.m. CDT (12-3:30 p.m. MDT) on Sundays and most holidays. Call 605-773-3458 for more information about exhibits, special events, and upcoming activities. Call 605-773-6000 for information on becoming a member of the State Historical Society.
About the South Dakota State Historical Society
The South Dakota State Historical Society is a division of the Department of Education. The State Historical Society, an Affiliate of the Smithsonian Institution since 2013, is headquartered at the South Dakota Cultural Heritage Center in Pierre. The center houses the society's world-class museum, the archives, and the historic preservation, publishing, and administrative/development offices. Call 605-773-3458 or visit www.history.sd.gov for more information. The society also has an archaeology office in Rapid City; call 605-394-1936 for more information.