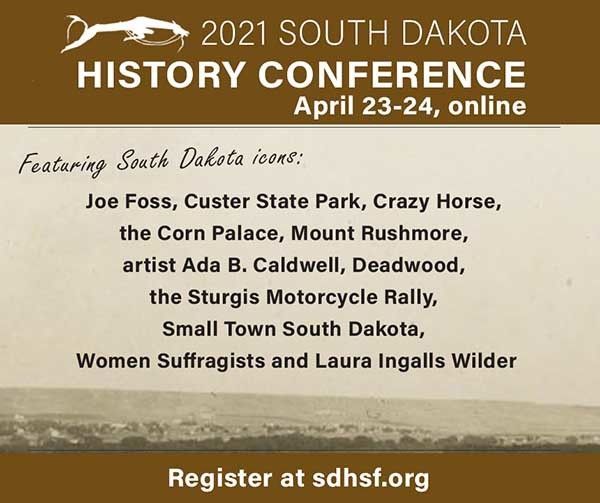 Registration is now available for the 2021 History Conference of the South Dakota State Historical Society, being held Friday and Saturday, April 23-24.
The conference will be a virtual Zoom event. The theme, organized by society museum staff, is "South Dakota Icons," featuring well-known people, places, and things in our state. Icons to be discussed include Joe Foss, Custer State Park, Crazy Horse, the Corn Palace, Mount Rushmore, artist Ada B. Caldwell, Deadwood, the Sturgis Motorcycle Rally, Small Town South Dakota, Women Suffragists, and Laura Ingalls Wilder.
"This is our first digital conference and we hope to have attendees from around the nation join us to learn more about the history and heritage of South Dakota," said Museum Director Jay Smith. "We chose to focus on icons, so that we could ensure a diverse array of topics for the 2021 Annual History Conference."  
"The fee to attend the two-day conference is reasonable, and if you join as a member, there is a discount on conference registration," said Ben Jones, state historian and director of the State Historical Society. "This is a great opportunity to become more familiar with the operations of the South Dakota State Historical Society." 
Online registration is preferred; please go to https://www.sdhsf.org/historyconferenceregistration.html. The cost of the conference is $10 for State Historical Society members and $25 for nonmembers. Educators can pick up 12 contact hours toward a certificate renewal credit at no charge. Those interested can also send their email address and a check, payable to "SDHSF," with "2021 History Conference" in the memo line to: 2021 History Conference, South Dakota State Historical Society, 900 Governors Dr., Pierre, SD 57501-2217.
More information about the conference is available at https://history.sd.gov/aboutus/eventsanded.aspx#.
For questions about the conference, please contact Smith at 605-773-3798 or Jay.Smith@state.sd.us. For information on becoming a State Historical Society member, please contact Jeff Mammenga, membership coordinator, at 605-773-6000 or Jeff.Mammenga@state.sd.us.
About the South Dakota State Historical Society
The South Dakota State Historical Society is a division of the Department of Education. The State Historical Society, an Affiliate of the Smithsonian Institution, is headquartered at the South Dakota Cultural Heritage Center in Pierre. The center houses the society's world-class museum, the archives, and the historic preservation, publishing, and administrative/development offices. Call 605-773-3458 or visit www.history.sd.gov for more information. The society also has an archaeology office in Rapid City; call 605-394-1936 for more information.