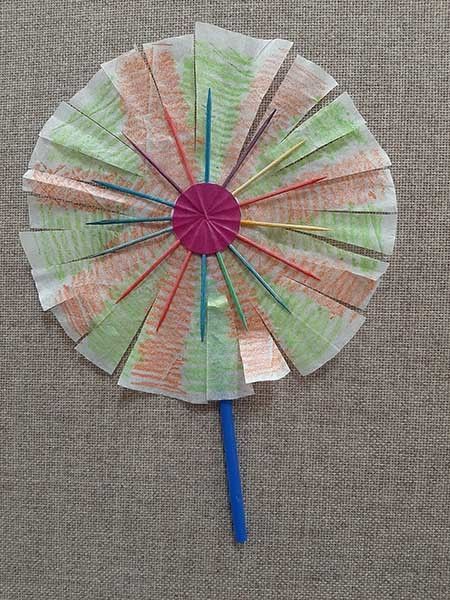 Spring in South Dakota brings pasqueflowers blooming on sunny hillsides and colorful tulips, daffodils, and irises in flower gardens. Dandelions start to spring up, too. On Saturday April 10, from 10-11:30 a.m. CDT, visitors to the Cultural Heritage Center in Pierre can pick up a take-to-make activity bag with the materials to create their own colorful flower.
Visitors pick up a bag with materials and instructions and take the project home to complete. In addition to the written instructions in the bag, video instructions are posted on the museum's website at https://history.sd.gov/museum/education.aspx.
While their bright yellow blossoms make them irresistible to children picking bouquets, dandelions drive those in pursuit of the perfect lawn to distraction. Is a dandelion a flower – or a weed? Dandelions are members of the Aster family, so many of its relatives are considered flowers. The hardy dandelion is a perennial and its leaves, flowers, and roots are all edible and can be used in many ways.
"Dandelions are not the only edible plant that grows wild in the state," said Museum Director Jay Smith. "To learn about other wild plants, visitors should check out the exhibit 'Where the Wild Things Grow In South Dakota' in the Observation Gallery."
Spring Flower take-to-make bags can only be picked up on Saturday, April 10, from 10-11:30 a.m. at the Cultural Heritage Center. To make sure there are enough bags to meet demand, the museum reserves the right to limit the number of bags any one person or group can take. 
The museum is open for visitors. A check-in station at the front door allows visitors to pick up a face mask and gloves if they wish to wear them while enjoying the galleries. Signage encourages visitors to maintain social distancing, and hand sanitizer stations are located throughout the museum. 
There is now free admission to the museum for all South Dakota residents. Out-of-state adult visitors pay an $8 admission fee or $6 for out-of-state seniors 60-and-older. Museum hours are 9 a.m.-4:30 p.m. CDT Monday through Saturday, and 1-4:30 p.m. CDT on Sundays and most holidays. Call 605-773-3458 for more information about exhibits, special events, and upcoming activities. Call 605-773-6000 for information about South Dakota State Historical Society membership.
About the South Dakota State Historical Society
The South Dakota State Historical Society is a division of the Department of Education. The State Historical Society, an Affiliate of the Smithsonian Institution since 2013, is headquartered at the South Dakota Cultural Heritage Center in Pierre. The center houses the society's world-class museum, the archives, and the historic preservation, publishing, and administrative/development offices. Call 605-773-3458 or visit www.history.sd.gov for more information. The society also has an archaeology office in Rapid City; call 605-394-1936 for more information.