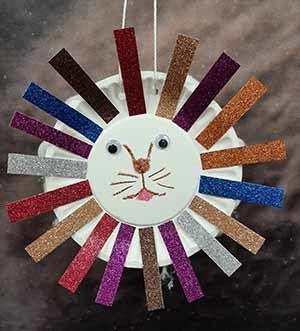 The South Dakota State Historical Society Museum will hold its next "take-to-make" Saturday Family Fun program on March 6, from 10-11:30 a.m. CST at the Cultural Heritage Center in Pierre.
The hands-on project for March is a lion/lamb hanging plate. Visitors picking up the lion/lamb take-to-make project can make their own two-sided hanging paper plate with a lion on one side and a lamb on the other. Visitors pick up a bag with materials and instructions and take the project home to complete. In addition to the written instructions in the bag, video instructions are posted on the museum's website at https://history.sd.gov/museum/education.aspx.
"We can't predict March weather," said Museum Director Jay Smith. "But we can predict that our visitors will have a good time making their own lion/lamb plates."
Lion/lamb bags can only be picked up on Saturday, March 6, from 10-11:30 a.m. To make sure there are enough bags to meet demand the museum reserves the right to limit the number of bags any one person or group can take. 
Folklore has it that if March comes in like a lion, it will go out like a lamb. Is there any truth to this? According to Farmersalmanac.com, some weather sayings are based on observations while others are just proverbs. March weather is unpredictable and may have a howling snowstorm followed by warm and springlike temperatures – in like a lion and out like a lamb.
"The saying is fun but cannot be counted on as a true weather predictor," Smith said.
The museum is open for visitors. A check-in station at the front door allows visitors to check their temperature and pick up a face mask and gloves if they wish to wear them while enjoying the galleries. Signage encourages visitors to maintain 6-foot social distancing and hand sanitizer stations are located throughout the museum.
There is now free admission to the museum for all South Dakota residents. Out-of-state adult visitors pay an $8 admission fee or $6 for out-of-state seniors 60 and older. Museum hours are 9 a.m.-4:30 p.m. CST Monday through Saturday, and 1-4:30 p.m. CST on Sundays and most holidays. Call 605-773-3458 for more information about exhibits, special events, and upcoming activities. Call 605-773-6000 for information about society membership.
About the South Dakota State Historical Society
The South Dakota State Historical Society is a division of the Department of Education. The State Historical Society, an Affiliate of the Smithsonian Institution since 2013, is headquartered at the South Dakota Cultural Heritage Center in Pierre. The center houses the society's world-class museum, the archives, and the historic preservation, publishing, and administrative/development offices. Call 605-773-3458 or visit www.history.sd.gov for more information. The society also has an archaeology office in Rapid City; call 605-394-1936 for more information.