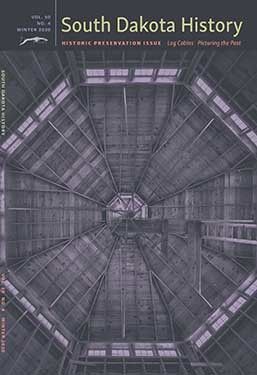 Log cabins and significant places in South Dakota are featured in the annual historic preservation issue of "South Dakota History," the quarterly journal of the South Dakota State Historical Society.
In an article entitled "Storied Structures: Log Cabins in South Dakota," Chris Nelson, a historic preservation specialist with the State Historic Preservation Office of the State Historical Society, focuses on the long tradition of log construction in the state. Beginning with early white settlers in eastern Dakota Territory in the 1860s and eventually spreading to the Black Hills and American Indian reservations, log buildings became a prominent part of South Dakota's history and lore. The few surviving structures have become a focus of historic preservation efforts and hold important places in the memories of local communities.
An excerpt from "Picturing the Past: South Dakota's Historic Places" by Jay D. Vogt and Stephen C. Rogers with photographs by Scott Myers highlights 21 places significant to South Dakota's history. The South Dakota Historical Society Press recently released a 15th anniversary reprint edition of this book, which reveals how these historic structures, landscapes, parks, and other spaces serve as icons of the state's diverse past.
Vogt, a South Dakota native, recently retired as director of the State Historical Society and State Historic Preservation Officer. Rogers currently works for the National Park Service and is a past director of the South Dakota State Historic Preservation Office. Myers is a professional photographer from Columbia, Mo.
Finally, "A Message from the Retiring Director" is a farewell message to the journal's readers from Vogt, who retired as the historical society director on Dec. 8, 2020, after holding that position since 2003. Having worked with the organization since 1987, Vogt leaves a significant legacy to its members.
"South Dakota History" is a benefit of membership in the State Historical Society. For information on membership, call 605-773-6000. To purchase individual issues, call 605-773-6009.
About the South Dakota State Historical Society
The South Dakota State Historical Society is a division of the Department of Education. The State Historical Society, an Affiliate of the Smithsonian Institution since 2013, is headquartered at the South Dakota Cultural Heritage Center in Pierre. The center houses the society's world-class museum, the archives, and the historic preservation, publishing, and administrative/development offices. Call 605-773-3458 or visit www.history.sd.gov for more information. The society also has an archaeology office in Rapid City; call 605-394-1936 for more information.