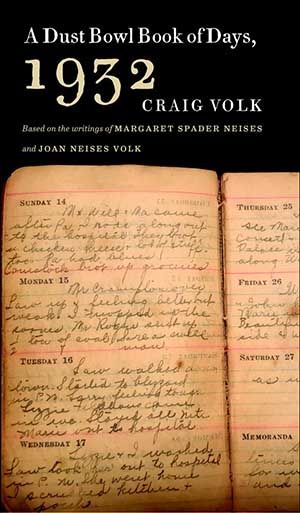 By the early 1930s, dust storms ripped across America's drought-stricken Great Plains. Living on the northernmost edge of the Dust Bowl, South Dakotans grappled with the natural extremes and economic depression of the era. "A Dust Bowl Book of Days, 1932" by Craig Volk, the latest book from the South Dakota Historical Society Press, invites readers into the day-to-day life of a Mitchell woman and her family as they struggle to survive.  
Volk draws on the Great Depression-era diaries of his grandmother, Margaret Spader Neises, and an unpublished memoir of his mother, Joan Neises Volk, to showcase the women who guided their families through adversity. Margaret bears witness to her husband's work struggles, her children's illnesses, and the forces of nature beyond her control. Her fears give rise to pithy, poignant observations. Whether documenting the escapades of a young temptress, her family's attempts to stay one step ahead of the banker, or her own whimsies, Margaret creates a vivid portrait of her life in simple prose.  
"By synthesizing numerous short diary entries written throughout the thirties into the single year of 1932, Volk crafts a unique and insightful look at the experiences of many who endured those hard times," says Nancy Tystad Koupal, director of the South Dakota Historical Society Press. 
Volk, an associate professor of theater, film, and video production at the University of Colorado-Denver, was born and raised in Mitchell, S.D. He earned degrees from the University of South Dakota and an MFA in playwriting and screenwriting from the Yale School of Drama in New Haven, Conn. Volk spent 12 years in the television and film industry in Los Angeles, including time as a writer for the Emmy-winning series "Northern Exposure." An award-winning playwright, he is also the author of three published collections of poetry.  
Margaret Spader Neises (1897–1954) was a second-generation American, born to German immigrants who moved to South Dakota to farm. She married Lawrence Neises in 1922, and they settled near Howard, S.D., before moving to Mitchell in the early 1930s. Joan Neises Volk (1924–1999) was born on the Spader family farm. She attended Notre Dame Academy in Mitchell, where she lived for more than 65 years, raising five boys with her husband, Erwin. 
"A Dust Bowl Book of Days, 1932" is available for $24.95, plus shipping and tax and can be ordered directly from the South Dakota Historical Society Press at sdhspress.com or by calling 605-773-6009. Follow the South Dakota Historical Society Press on Facebook (SDHS Press) and Twitter (@sdhspress) for more information. 
About the South Dakota State Historical Society 
The South Dakota State Historical Society is a division of the Department of Education. The State Historical Society, an Affiliate of the Smithsonian Institution since 2013, is headquartered at the South Dakota Cultural Heritage Center in Pierre. The center houses the society's world-class museum, the archives, and the historic preservation, publishing, and administrative/development offices. Call 605-773-3458 or visit www.history.sd.gov for more information. The society also has an archaeology office in Rapid City; call 605-394-1936 for more information.