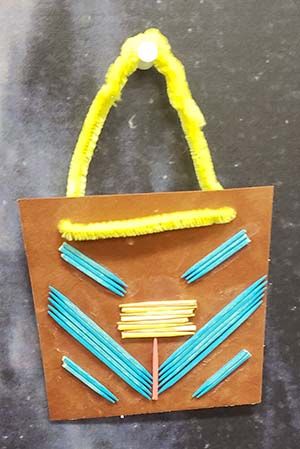 Visitors will have the opportunity to create their own "quillwork" piece using colored toothpicks at Family Fun Saturday on Sept. 7 at the Cultural Heritage Center in Pierre.
The free program runs from 10-11:30 a.m. All supplies are provided, and children must be accompanied by an adult. Admission to the museum gallery is also free during program hours.
"There are some great quill decorated pieces on exhibit in the museum gallery," said Jay Smith, museum director. "Visitors can make their own with the craft supplies we provide and then go into the gallery and see some wonderful examples."
The Oglala Sioux people have a legend in which a mythical "double woman" (twins) came in a woman's dream to teach her the use of quills. The dreamer taught other women how to use quills. Each woman's quill designs were considered her personal property and were not to be copied by other quillworkers.  
To collect the quills, women threw a blanket over a porcupine. The animal raised its quills and the quills caught on the blanket. The blanket was removed, and the quills collected.
Quills were used to decorate clothing, moccasins, bags, and baskets. Quills were dyed with plants and minerals to create beautiful colors. They were soaked in water to soften and then flattened before being sewn into different designs. Porcupine quills were used for decorative work on clothing until approximately 1850 when glass beads largely replaced quills as a decorating element. Quillworking is still practiced today.
The museum is open from 9 a.m.-6:30 p.m. CDT Monday through Saturday and 1-4:30 p.m. on Sundays and most holidays through Labor Day, then 9 a.m.-4:30 p.m. Monday through Saturday and 1-4:30 p.m. on Sundays and most holidays. Call 605-773-3458 for more information about exhibits, special events and upcoming activities, or visit history.sd.gov.
About the South Dakota State Historical Society
The South Dakota State Historical Society is a division of the Department of Education. The State Historical Society, an Affiliate of the Smithsonian Institution, is headquartered at the South Dakota Cultural Heritage Center in Pierre. The center houses the society's world-class museum, the archives, and the historic preservation, publishing and administrative/development offices. Call (605) 773-3458 or visit www.history.sd.gov for more information. The society also has an archaeology office in Rapid City; call (605) 394-1936 for more information.