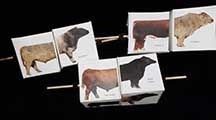 Visitors to the Cultural Heritage Center in Pierre on Saturday, June 8, can create their own brand during "Branding Time!" as part of the Family Fun Saturday program.
The program runs from 10-11:30 a.m. CDT. All supplies are provided, and children must be accompanied by an adult. Visitors will design a brand and apply it to paper cattle to create twisty cow blocks. Admission to the museum gallery is free during program hours.
Livestock have been branded – marked permanently with a hot iron – for identification in the South Dakota area since before statehood. The oldest brands on record in the territory were filed in Union County in 1865.
Legitimate brands are registered so livestock owners can identify their animals if they wander off or are stolen. Brands can include letters of the alphabet, numbers or a variety of symbols. In South Dakota, registered brands must have two -- but no more than three -- letters, numbers or symbols. 
Animals are branded on different parts of the body and South Dakota cattle are branded on the shoulder, ribs or hip. Properly branded livestock are identified for life.
"Most people probably never realize there are rules regarding what branding symbols are allowed in South Dakota," said Jay Smith, museum director. "About three out of four new brand applications made to the South Dakota Brand Board are rejected because their design conflicts with other registered brands. Our visitors don't need to worry about running afoul of the brand laws – they can create any brand to apply to their paper cows."
There are different types of branding irons. A stamp iron is the complete brand forged all in one piece. It is heated and stamped onto the animal in one step. A running iron is used like a pencil to draw the brand on the hide. A good brand has a simple design that is easily applied to the animal leaving a clear, legible mark. There are over 25,000 brands registered in the state.
The museum is open from 9 a.m.-4:30 p.m. Monday through Saturday, and 1-4:30 p.m. on Sundays and most holidays. Beginning Tuesday, May 28, the museum is open 9 a.m.-6:30 p.m. Monday through Saturday and 1-4:30 p.m. on Sundays and most holidays. Call 605-773-3458 for more information about exhibits, special events and upcoming activities.
About the South Dakota State Historical Society
The South Dakota State Historical Society is a division of the Department of Education. The State Historical Society, an Affiliate of the Smithsonian Institution, is headquartered at the South Dakota Cultural Heritage Center in Pierre. The center houses the society's world-class museum, the archives, and the historic preservation, publishing and administrative/development offices. Call (605) 773-3458 or visit www.history.sd.gov for more information. The society also has an archaeology office in Rapid City; call (605) 394-1936 for more information.