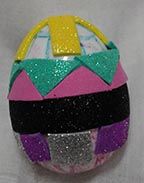 Spring has sprung, and visitors to the Cultural Heritage Center in Pierre can celebrate by decorating their own special egg on Family Fun Saturday, April 13.
"Eggstravaganza!" will run from 10-11:30 a.m. CDT. There is no program fee and supplies are provided. Children must be accompanied by an adult. Admission to the museum gallery is also free during program hours.
"While we are using plastic eggs and colorful stickers to decorate them, we are pleased to continue an old tradition in a new way," said Jay Smith, museum director.
Decorating eggs is one of the oldest decorative arts. Some decorated eggs found in Africa are 60,000 years old. The earliest egg decorating method was to scratch a design onto the egg's shell. Brown eggs could be scratched to reveal the white shell underneath. White eggs were dyed and then scratched. Natural materials were used to color eggs. Onion skins, yellow onions for a reddish brown and red onions for a light blue, are still used. Lichens, beets, spinach and flower petals have been used to dye eggs.
The most elaborately decorated eggs come from Eastern Europe. Wax is applied using a tiny stylus to make fine lines, or a stylus with a rounded end to drip wax onto the egg in elongated teardrops. The egg is dyed, and more wax is applied to create layers of color from light to dark. Eggs from Ukraine and the surrounding region are among the most elaborate wax-resist designs found anywhere, with many layers of colors. They are given as gifts to preserve the health of the recipient.
"While we won't be using real eggs, our visitors will enjoy making their own egg decorations to share in their own homes," said Smith. 
The museum is open from 9 a.m.-4:30 p.m. Monday through Saturday, and 1-4:30 p.m. on Sundays and most holidays. Call 605-773-3458 for more information about exhibits, special events and upcoming activities.
About the South Dakota State Historical Society
The South Dakota State Historical Society is a division of the Department of Education. The State Historical Society, an Affiliate of the Smithsonian Institution, is headquartered at the South Dakota Cultural Heritage Center in Pierre. The center houses the society's world-class museum, the archives, and the historic preservation, publishing and administrative/development offices. Call 605-773-3458 or visit www.history.sd.gov for more information. The society also has an archaeology office in Rapid City; call 605-394-1936 for more information.