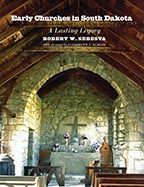 "Early Churches in South Dakota: A Lasting Legacy" by Robert W. Sebesta is a finalist for the 31st annual Independent Book Publishers Association (IBPA) Benjamin Franklin Award in Religion. Published by the South Dakota State Historical Society in August, the book showcases more than 600 religious structures built from 1869 to 1930—many still in use, others long neglected.
A testament to the people who built them, churches represent shared religious beliefs, local craftsmanship and community. Members of the congregations often constructed these buildings from readily available materials to fulfill their visions of faith, education and fellowship. From simple wood structures to large stone edifices, each building embodies the identity of its worshippers. In "Early Churches in South Dakota," Sebesta details, decade-by-decade, the early efforts to create these places of worship and the modern-day struggles to preserve them.
"It is an honor to be recognized by the Benjamin Franklin Awards," says Nancy Tystad Koupal, director of the South Dakota Historical Society Press. "Sebesta's work is a great contribution to the spiritual history of the state and region."
The IBPA Benjamin Franklin Awards are regarded as one of the highest national honors for independent publishers and include more than 50 categories, recognizing excellence in book editing and design. Fifty-four award winners will be announced on April 5 during a ceremony in Chicago.
"Early Churches in South Dakota: A Lasting Legacy" is available for $29.95 plus shipping and tax and can be purchased from most booksellers or ordered directly from the South Dakota Historical Society Press. Visit sdhspress.com or call 605-773-6009. For more information email info@sdhspress.com
About the South Dakota State Historical Society
The South Dakota State Historical Society is a division of the Department of Education. The State Historical Society, an Affiliate of the Smithsonian Institution, is headquartered at the South Dakota Cultural Heritage Center in Pierre. The center houses the society's world-class museum, the archives, and the historic preservation, publishing and administrative/development offices. Call 605-773-3458 or visit www.history.sd.gov for more information. The society also has an archaeology office in Rapid City; call 605-394-1936 for more information.