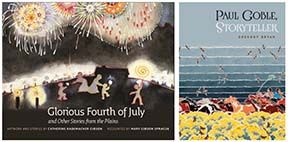 Two South Dakota State Historical Society books were recently awarded Midwest Book Awards from the Midwest Independent Publishing Association (MIPA).
"Glorious Fourth of July and Other Stories from the Plains" won the Young Adult Non-Fiction category, and "Paul Goble, Storyteller" won for best biography. Both titles were released in 2017 and have been well reviewed by readers and critics alike.
"Glorious Fourth of July and Other Stories from the Plains" includes stories and artwork by Catherine Rademacher Gibson, as recounted by her daughter Mary Gibson Sprague. Through episodes in Catherine's childhood, illustrated by her "memory paintings," the book shares a narrative common to many plains families that migrated throughout the United States at the beginning of the 20th century. "Unreservedly recommended" by the Midwest Book Review, "Glorious Fourth of July" is a testament to the creative spirit and calls readers back to a time when children relied on their own ingenuity to occupy themselves.
"Paul Goble, Storyteller" by Gregory Bryan is currently the only biography of Paul Goble, the author and illustrator of more than 40 children's books, including Caldecott Medalist "The Girl Who Loved Wild Horses." Goble passed away early last year at the age of 83 in the Black Hills, where he had lived for more than 40 years. "Bryan has done thorough research in writing this book and tells Goble's story clearly," writes Kansas History reviewer Dennis Etzel.
The MIPA was founded in 1984 and serves the upper-Midwest publishing community. More information can be found at mipa.org.
View the South Dakota Historical Society Press catalog at sdhspress.com and follow its activities on Facebook and Twitter (@SDHSPress). To place a book order, call 605-773-6009 or email orders@sdhspress.com.
About the South Dakota State Historical Society
The South Dakota State Historical Society is a division of the Department of Education. The State Historical Society, an Affiliate of the Smithsonian Institution, is headquartered at the South Dakota Cultural Heritage Center in Pierre. The center houses the society's world-class museum, the archives, and the historic preservation, publishing and administrative/development offices. Call 605-773-3458 or visit www.history.sd.gov for more information. The society also has an archaeology office in Rapid City; call 605-394-1936 for more information.