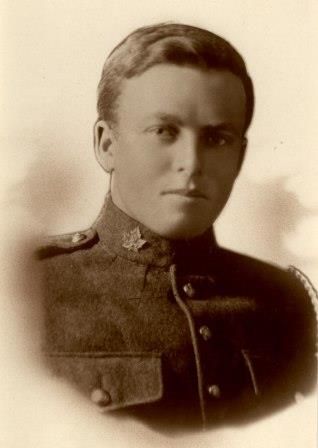 The South Dakota State Historical Society recently processed a collection of World War I-era photographs and letters written by Webster, S.D., native Pvt. Herbert McKennett. The correspondence of more than 30 letters dates mainly from 1916 and 1917.
McKennett was born July 25, 1894, to Thomas and Dora McKennett of Webster. He attended public school in Webster and later moved to Canada to take a homestead.
At the onset of World War I in Europe, McKennett enlisted in the Canadian Army. As a private he was a member of the Canadian Infantry (Manitoba Regiment) 27th Battalion. The collection includes an 11x15-inch photo of McKennett's Canadian battalion which went by the name "Canadian Black Devils."
While in France, Pvt. McKennett sent the following letter to his family on Jan. 22, 1917: "Just a few lines to let you know that I am feeling fine and hope you all are the same at home … It has been freezing most of the time and there is about six inches of snow on the ground but the snow sure has the rain beat by a long ways … I got a letter from Harry and he was saying he was getting to spend Christmas home. Well I spent Christmas Eve and Christmas night on a machine gun post between our front lines and Fritz [German soldiers] and I don't believe that I am very likely to forget that Christmas night for some time to come … with love to all Herb McKennett."
The donation, from family members, includes the telegram sent to Dora McKennett informing her of her son's death. Pvt. McKennett was killed Aug. 21, 1917, and was buried in the Loos British Cemetery in France. Included are photographs of McKennett's tombstone in the Loos Cemetery.
The donation also features transcripts of McKennett's letters. The digital transcription files were saved and preserved through the South Dakota State Historical Society-Archives Digital Preservation program.
American Legion Post #40 in Webster was named after Herbert McKennett. He was the first Day County resident killed in World War I.
To donate historical items related to South Dakota history, please contact the South Dakota State Archives by phone at 605-773-3804 or email at archref@state.sd.us.
Editor's Note: A photo of Pvt. Herbert McKennett is attached. (Photo courtesy of South Dakota State Historical Society-Archives)
About the South Dakota State Historical Society
The South Dakota State Historical Society is a division of the Department of Education. The State Historical Society, an Affiliate of the Smithsonian Institution, is headquartered at the South Dakota Cultural Heritage Center in Pierre. The center houses the society's world-class museum, the archives, and the historic preservation, publishing and administrative/development offices. Call 605-773-3458 or visit www.history.sd.gov for more information. The society also has an archaeology office in Rapid City; call 605-394-1936 for more information.