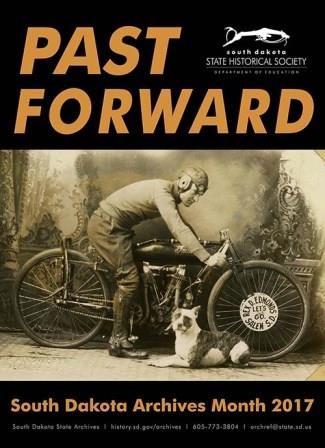 Gov. Dennis Daugaard has proclaimed October as Archives Month in South Dakota.
Gov. Daugaard noted in the proclamation, "Archives have a duty to provide public access to their records, and it is the goal of archives to increase public awareness of the role archives play in providing knowledge about the historical and cultural heritage of South Dakota."
"This month is the time for us to focus on the important records that protect our rights, provide enduring memories and give recognition to the people and programs that maintain these records," said Chelle Somsen, South Dakota state archivist.
The South Dakota State Archives, located at the Cultural Heritage Center in Pierre, is sponsoring several events that highlight historical records this month, including the following:
Tuesday, Oct. 3, 7-8 p.m. CDT, History Trivia Night (St. Charles Lounge, 207 E. Capitol Ave., Pierre)
Enjoy a fun night of South Dakota and general history trivia. Contestants will form teams of four and answer as many questions correctly as they can. The winning team gets a prize.
Wednesday, Oct. 4, 8 a.m. to 5 p.m. CDT, #AskAnArchivist Day
Ask An Archivist Day is a national event sponsored by the Society of American Archivists. You can follow the Twitter conversation using #AskAnArchivist and send your questions to @SDArchives
Saturday, Oct. 7, 9 a.m. to 4:30 p.m. CDT, State Archives open (Cultural Heritage Center, 900 Governors Drive, Pierre)
The State Archives at the Cultural Heritage Center in Pierre will be open.
Tuesday, Oct. 10, 8 a.m. to 5 p.m. CDT, Electronic Records Day
Oct. 10 is designated as "Electronic Records Day" by the Council of State Archivists. Electronic files are much more fragile than paper records, and their long-term survival requires attention and planning. Watch the State Archives Facebook page on Electronic Records Day for tips on preserving and managing your electronic files.
Saturday, Oct. 21, 2 p.m. CDT, Scotty Philip Cemetery Virtual Tour (Capitol Lake Visitors Center, 600 E. Capitol Ave., Pierre)
Ken Stewart with the South Dakota State Archives will be giving a presentation on the Scotty Philip Cemetery at the Capitol Lake Visitors Center in Pierre. Ken will show a PowerPoint presentation with images from the cemetery while discussing some of the area's early residents buried there.
Monday, Oct. 30, 7 p.m. CDT, Murder at the State Archives (Capitol Lake Visitors Center, 600 E. Capitol Ave., Pierre)
Manuscript archivist Matthew T. Reitzel, with research assistance from former archivist Carol Jennings, will offer a presentation on collections from the State Archives' manuscript, government, photograph, newspaper and library collections concerning historical murders in South Dakota. The presentation will highlight the unique historical resources of the State Archives.
For more information on South Dakota Archives Month please visit history.sd.gov/archives and click the link "Archives Month 2017."
About the South Dakota State Historical Society
The South Dakota State Historical Society is a division of the Department of Education. The State Historical Society, an Affiliate of the Smithsonian Institution, is headquartered at the South Dakota Cultural Heritage Center in Pierre. The center houses the society's world-class museum, the archives, and the historic preservation, publishing and administrative/development offices. Call 605-773-3458 or visit www.history.sd.gov for more information. The society also has an archaeology office in Rapid City; call 605-394-1936 for more information.