History & Heritage Book Club
We've got a great lineup of programs coming to the Heritage Center. We hope to see you at the meetings!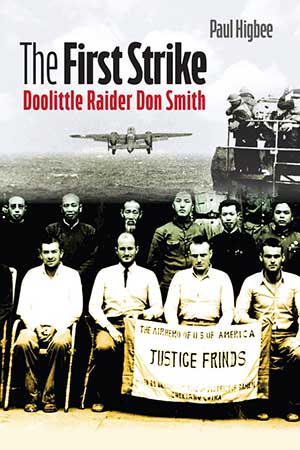 Paul Higbee will tell the story of a South Dakotan who piloted a bomber in one of the most daring air raids in World War II when the History and Heritage Book Club meets at 7 p.m. on Tuesday, Jan. 14, at the Cultural Heritage Center.
Higbee is the author of "The Frist Strike: Doolittle Raider Don Smith." He will be speaking to the book club in person.
Smith grew up in Belle Fourche. He piloted one of the 16 B-25 bombers that struck Japan in April 1942 in what became known as the Doolittle Raid. The Doolittle Raid demonstrated that Japan was vulnerable to American air attack, served as retaliation for the Japanese attack on Pear Harbor, and provided an important boost to American morale.
Smith successfully led his squad to a target in Japan, safely landed the bomber on water off the coast of China, and led his crew to safety through Japanese-occupied territory in China.
Higbee, who lives in Spearfish, first learned of Smith in 2001 when Belle Fourche dedicated a day to its hometown hero. Higbee is a longtime contributor to South Dakota Magazine, and an article Higbee wrote about Smith was published in the magazine a year later.
Higbee decided to write a book about Smith because he believed Smith was forgotten even among South Dakotans who knew about the Doolittle Raid, and because Smith did not fit the image of a war hero, as he hoped the United States could avoid the war.
"First Strike" was published in 2019 by the South Dakota Historical Society Press. Copies of it are sold at the Heritage Stores at the Cultural Heritage Center and the Capitol.
---
About the South Dakota State Historical Society
The South Dakota State Historical Society is a division of the Department of Education. The State Historical Society, an Affiliate of the Smithsonian Institution, is headquartered at the South Dakota Cultural Heritage Center in Pierre. The center houses the society's world-class museum, the archives, and the historic preservation, publishing and administrative/development offices. Call (605) 773-3458 or visit www.history.sd.gov for more information. The society also has an archaeology office in Rapid City; call (605) 394-1936 for more information.
About the South Dakota Historical Society Foundation
The South Dakota Historical Society Foundation is a private charitable nonprofit that seeks funding to assist the South Dakota State Historical Society in programming and projects to preserve South Dakota's history and heritage for future generations.