Gloria Welk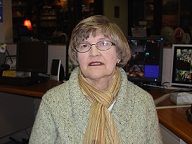 Friends encourage friends to volunteer at the Cultural Heritage Center.
Gloria Welk began volunteering at the Cultural Heritage Center in 2010 at the suggestion of her friend Connie Grittner. The two work together on Tuesday mornings, with Gloria at the desk and Connie in the store.
Gloria grew up on a farm near Hazen, N.D., that had been in her family for many years. She met her husband, George, at a wedding dance in his hometown in Beulah, N.D. They will have been married 48 years in June.
The Welks lived in Bismarck, N.D., the first 10 years of their marriage. They later lived in Fargo, N.D., Bemidji, Minn., and Windom, Minn.
George enjoys hunting and fishing, and the Welks had a houseboat on Lake Francis Case. When it came time for George to retire, they sold the houseboat and scouted for towns in which to live. They decided to live in Fort Pierre, because Fort Pierre and Pierre are not as large as Sioux Falls or Rapid City.
The Welks have three daughters: Miranda, Marie and Susan.
Miranda has a master's degree in health and will soon be living in Washington, D.C.
Marie majored in interior design. She lives in St. Anthony, Minn., and works for a tile company, helping with commercial layouts of tile. She has an 11-year-old son, Gavin.
Susan also majored in interior design in college. She lives in Richfield, Minn., and works for an architectural firm. Susan and her husband have a two-month-old daughter, Nikita.
While her daughters were in college, Gloria decided to go to Bemidji State, too.
"Three of us were in college at the same time," Gloria said.
Gloria has a degree in graphic design. She worked at a kindercare when her youngest daughter went there.
"Now my spare time is volunteer work," she said. She is a Reading Buddy and is an active member of Faith Lutheran Church.
"What I enjoy about volunteering at the Cultural Heritage Center is you meet interesting people. Most say they like our displays and that it's a well laid-out museum. Plus, I've always enjoyed history," Gloria said.
Thank you, Gloria, for being a volunteer at the Cultural Heritage Center and for sharing your enjoyment of history with visitors.