Donna Gutenkauf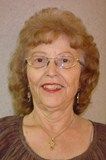 Raising sheep, milking cows and going to the big city of Seneca on Saturday nights were all part of Donna Gutenkauf's life when she was growing up. Donna grew up on a farm 25 miles north of Highmore, the fourth of Ray and Alice Baloun's six children.
Donna went to Rice Lake Country School through the eighth grade, then boarded in Highmore all four years of high school. Donna graduated from St. John's School of Nursing as a registered nurse.
"My first big job was at McKennan Hospital in 1961," Donna said.
A boy named Arnie Gutenkauf attended the same Catholic Church in Seneca as Donna. They were married on Nov. 10, 1962, in Seneca.
They lived in Sioux Falls until the winter of 1963, when they moved to Hoven. Donna started working at Holy Infant Hospital in Hoven and Arnie opened his first beauty shop in Gettysburg. They later moved to Gettysburg where Donna became the director of nursing at the newly-opened Oahe Manor Nursing Home. The Gutenkaufs moved to Pierre in 1975.
"When we moved to Pierre I took a year off and we built our first home, where we still live," Donna said.
She worked part-time at Medical Associates Clinic as an RN. In 1978, she began working at Maryhouse and worked there until she retired in 2004.
"I still keep busy gardening, making quilts, yard work, traveling and volunteering," Donna said. She volunteers at the desk at the CHC one afternoon a month.
She and Arnie had three sons: Jeffry, Chad and Shane. Although all were born several months premature and the heaviest weighed 4 ½ pounds, they grew up to become fine wrestlers.
Donna and Arnie made many a road trip as they followed their sons' sports activities. Now they follow their grandchildren's activities. Jeffry and his wife, Carrie, live in Pierre and have two children: Sydney and Erik. Sydney is on the varsity gymnastics team. Chad and his wife, Anne, live in the Ham Lake, Minn., and have two daughters, Abbey and Breck. Unfortunately, Shane died in an accident at age 27 while on vacation in Cancun.
Abbey's dance team was recently chosen the best of the best, so Donna now has a national champion in the family.