Betty Meintsma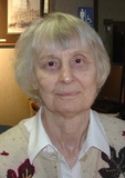 The Pierre Area Charitable Organizations provides the opportunity for nonprofit organizations to recognize volunteers for their efforts and support.
The South Dakota Heritage Fund selected for this Good People, Good Causes award.
Betty was born in Detroit, Mich., and grew up in a suburb of Buffalo, N.Y. She went to college for nursing at Hamline University in Saint Paul, Minn., and worked mainly at Veterans Administration hospitals in Minneapolis and Sioux Falls.
Betty decided to move to Pierre after retiring because a son lives in Pierre.
She began volunteering at the Cultural Heritage Center in 2008 at the urging of Kate Vandel. Betty had met Kate at a book club meeting, and learned that Kate worked at the Cultural Heritage Center.
"I asked if they needed volunteers because I was in need of helping," Betty said.
Betty was initially a volunteer in the Heritage Store, but found that she was better suited to volunteer at the front desk.
Betty volunteered more than 100 hours a year at the Cultural Heritage Center in 2009 and 2010 and is on track to donate more than 100 hours of her time this year.
She can usually be found at the front desk on Wednesday morning, but she is always willing to help more if needed.
"I enjoy meeting and helping people and showing off our great city," Betty said.
We commend Betty for the dedication and commitment she has shown to the Cultural Heritage Center.