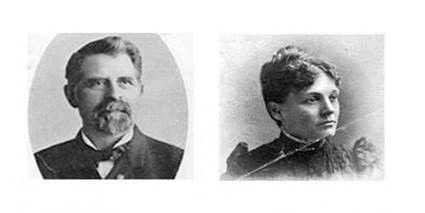 The Pickler Papers have been adopted.
Digitization of this collection was made possible by a generous donation from the F.L. Clarkson Family Foundation.
In 1870, a Civil War veteran named John Pickler married Alice Alt, a college graduate. The couple moved to Dakota Territory in 1882 where they lived in Faulkton with their four children. The Picklers were active members of their community and society. John Pickler eventually became a member of the U.S. House of Representatives, a position he used to promote the causes both he and Alice supported. While the couple was passionate about many causes, two of the most important were equal suffrage for women and temperance. 
The John and Alice Pickler Suffrage Collection contains various correspondence including letters, postal cards, club reports, speech notes, meeting minutes, petitions and telegrams. There are also leaflets that were handed out to people during suffrage and temperance campaigns.
These items come from the many different organizations the Picklers were part of, including the Woman's Relief Corps of the G.A.R., the Loyal Temperance Legion, the Women's Christian Temperance Union (WCTU) and the South Dakota Equal Suffrage Association (ESA). The collection is not limited to items created by the Picklers. Most items come from their friends, acquaintances and allies in these different organizations.  
John Pickler died in 1910, years before the 19th Amendment was ratified. Alice Pickler lived until 1932, so she was witness to American women finally getting the right to vote.  
These records are now available to the public on the South Dakota Digital Archives.
State Archivist Chelle Somsen said, "We appreciate the F.L. Clarkson Family Foundation's support that allowed us to make this selection of nationally significant records from the Pickler Papers available online."