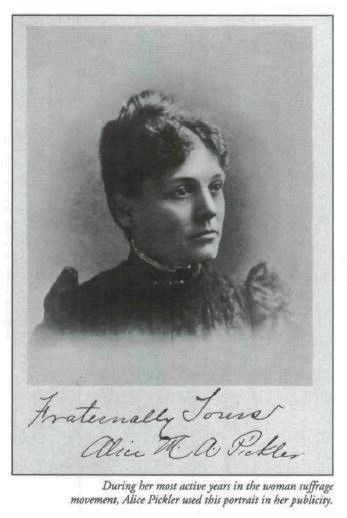 We are focused on ensuring South Dakota digital collections are not just lost and are accessible to the public
Approximately 65,000 images are available on the South Dakota Digital Archives, and the goal is to add a minimum of 6,000 images annually.
Pickler Family Papers (H91-74) 65 cubic feet
A markedly broad range of research topics is addressed in the Pickler Family Papers and the Humphrey Family Papers, which reside in the South Dakota State Historical Society Archives.  Both collections contain significant material on subjects as microcosmic as the daily routine of a homestead household and as universal as the international woman suffrage movement. Circumstance and geography closely intermingled the lives of two families who were among the earliest settlers of Faulkton, Dakota Territory, in the last quarter of the nineteenth century. Read more >>>
The Pickler Family papers consist of correspondence, subject files, financial records, journals, business records, photographs, scrapbooks, and speeches, 1865-1976.  Major John Alfred Pickler and his wife, Alice Mary Alt Pickler, were prominent Faulk County pioneers. This collection contains documentation of the temperance and suffrage movements in South Dakota, in which both John and Alice Pickler were active. Alice's correspondents included persons of national prominence in these crusades including Annie Wittenmeyer, Carrie Chapman Catt, Susan B. Anthony, and Henry Blackwell. The collection includes an extensive body of correspondence between state and national Equal Suffrage Association headquarters and field workers and local societies.  Portions of the collection dating later than 1910 concern the household, school, and business activities by then widowed Alice Pickler, her children, and grandchildren. The collection in its entirety is 65 cubic feet. The extent of the suffrage and temperance movement materials is roughly five cubic feet.
Photo Digitization multi-year project. . . . . . . . . . . . . . . . . . . . . . . . . . . . .  . . . . . . . . . goal $15,000
The papers centered around the women's suffrage movement have been sponsored by a generous donor.  There are many more cubic feet of papers to be digitized.  Please contact Catherine if you would like more information.  (605) 773-6003
---
Yes! I want to help make possible the preservation of the Pickler Papers!